27 Sep 2015
Overview
A common cause of heel pain is the heel spur, a bony growth on the underside of the heel bone. The spur, visible by X-ray, appears as a protrusion that can extend forward as much as half an inch. When there is no indication of bone enlargement, the condition is sometimes referred to as "heel spur syndrome." Heel spurs result from strain on the muscles and ligaments of the foot, by stretching of the long band of tissue that connects the heel and the ball of the foot, and by repeated tearing away of the lining or membrane that covers the heel bone. These conditions may result from biomechanical imbalance, running or jogging, improperly fitted or excessively worn shoes, or obesity.
Causes
Faulty foot structures such as abnormal growths, different leg lengths, and unhealed injuries and haveinf flat feet or high arches. Muscle imbalances tight, weak or shortened muscles in your foot, plantar fascia, ankle, calf and hamstring. Over pronation can cause imbalance in foot mechanics which puts excess pressure on the plantar fascia. Poor biomechanics affect the way your foot hits the ground. If you overpronate (feet roll inward) you tend to have flat feet (pes planus), which increases stress on the heel bone. Regular shoes or high heels that are too tight or don't support your heel or arch affect the distribution of your body weight on your foot. Health conditions such as obesity, inflammatory diseases (rheumatoid arthritis, ankylosing spondylitis), bursitis, neuroma (nerve growths), gout, diabetes, Haglund's deformity, and Achilles tendinitis can also instigate the problem. Running or jogging on hard surfaces, repetative striking of the heel bone.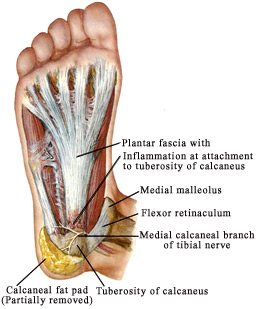 Symptoms
Heel spurs may or may not cause symptoms. Symptoms are usually related to the plantar fasciitis. You may experience significant pain. Your heel pain may be worse in the morning when you first wake up or during certain activities.
Diagnosis
Most patients who are suffering with heel spurs can see them with an X-ray scan. They are normally hooked and extend into the heel. Some people who have heel spur may not even have noticeable symptoms, although could still be able to see a spur in an X-ray scan.
Non Surgical Treatment
Ice and use arch support . If you can localize the spur, cut a hole in a pad of felt and lay the hole over the spur. This supports the area around the spur and reduces pressure on it. Massage the spur. Start gently with your thumb and gradually increase the pressure until you?re pushing hard directly on the spur with your knuckle or another firm object. Even it if hurts, it should help. Arch support. Build up an arch support system in your shoes. Try to equalize the pressure of your body weight throughout your arch and away from the plantar area. Use a ?cobra pad? or other device that supports the arch but releases pressure on the painful area. If homemade supports do not work, see a podiatrist about custom orthotics.
Surgical Treatment
Though conservative treatments for heel spurs work most of the time, there are some cases where we need to take your treatment to the next level. Luckily, with today?s technologies, you can still often avoid surgery. Some of the advanced technologies to treat a Heel Spur are Platelet Rich Plasma Therapy. Platelet Rich Plasma Therapy (also known as PRP) is one of several regenerative medicine techniques that University Foot and Ankle Institute has helped bring to foot and ankle care. This amazing in-office procedure allows the growth factors in the blood to be used to actually begin the healing process again long after your body has given up on healing the area. Heel Pain Shockwave Therapy. Shockwave therapy is a non-invasive procedure done in the office that allows for new blood to get to the region of fascia damage and help with healing. Results have been excellent with more than 70 percent of patients getting relief with only one treatment. Topaz for Heal Spurs and pain. Another minimally invasive technology technique is called Coblation Surgery using a Topaz probe. This minimally invasive procedure involves controlled heating of multiple tiny needles that are inserted through the skin and into the plantar fascia. This process, like PRP and Shockwave therapy, irritates the fascia enough to turn a chronic problem back into an acute problem, greatly increasing the chances of healing. Heel Spur Surgery. Endoscopic Plantar Fasciotomy is one surgical procedure that we consider to release the tight fascia. University Foot and Ankle Institute has perfected an endoscopic (camera guided) approach for fascia release to allow rapid healing and limited downtime with minimal pain.
Prevention
There are heel spur prevention methods available in order to prevent the formation of a heel spur. First, proper footwear is imperative. Old shoes or those that do not fit properly fail to absorb pressure and provide the necessary support. Shoes should provide ample cushioning through the heel and the ball of the foot, while also supporting the arch. Wearing an orthotic shoe insert is one of the best ways to stretch the plantar fascia and prevent conditions such as heel spurs. Stretching the foot and calf is also helpful in preventing damage. Athletes in particular should make sure to stretch prior to any physical activity. Stretching helps prevent heel spurs by making tissue stronger as well as more flexible. In addition, easing into a new or increasingly difficult routine should be done to help avoid strain on the heel and surrounding tissue.